Performing Arts of BC Competition
The 'Provincials'
What is the PABC? 
Established in 1964, Performing Arts BC (formerly the BC Association of Performing Arts Festivals), is a not-for-profit charity which acts as the umbrella organization for 34 regional performing arts festivals throughout the province. These festivals are as diverse in size and scope as the communities they represent. Over 32,000 young musicians, dancers and dramatic artists, ranging in age from 5 to 28, participate each year in one of these regional festivals. The festival setting gives them an opportunity to gain invaluable educational and performing experience. The Provincial Festival, also known as The Provincials, is the eagerly anticipated pinnacle of BC's festival circuit. Hosted by a different regional festival each year, only the most promising young performers from each regional festival are recommended to the Provincial Festival where they compete and participate in adjudicated sessions, master classes, coaching, workshops and technique classes with some of North America's finest adjudicators. Classes are offered at the Provincial level in Classical Voice, Musical Theatre, Piano, Strings, Woodwinds, Brass, Guitar, Chamber Music, Speech Arts, Ballet, Modern Dance and Stage Dance. The very best performers in various music disciplines are then recommended to move on to the National Music Festival.
Performing Arts of BC Competition, commonly known as "The Provincials" is held at the end of May or the first part of June throughout British Columbia hosted by one of 34 regional performing arts festivals each year. (www.bcprovincials.com)
The Surrey Festival of Dance Society has been able to send dancers from the Junior, Intermediate and Senior levels, which have been selected by our distinguished body of Professional Adjudicators to represent our Dance Festival. These honoured few have met the prerequisite criteria to successfully be chosen as our Representatives as set out in the Surrey Festival of Dance Syllabus. 
As outlined in the Surrey Festival of Dance Syllabus, in order to qualify a dancer must do the following:
Classical Ballet: Dancer must perform a Solo Set Variation or Solo Set Ballet, two other solos from their category. (Open ballet, open Demi-Character, Pointe, open Demi-Pointe, Interpretive, or Solo Contemporary Ballet, Variation En-Pointe and Male Classical Variations) and attend Audition Class.
Contemporary-Modern: Dancer must perform one Solo Contemporary, one Solo Modern and attend Workshop Class.
Jazz: Dancer must perform solo Jazz, two other solos (lyrical, hip hop, street dance, stage, song & dance or tap), and attend Audition Class.
Stage: Dancer must perform Tap Solo, two other solos (stage, song and dance, Jazz, or lyrical), and attend Audition Class.
Past Reviews and Representatives
2018 Review
From May 29th until June 2nd 2018 over 640 artists gathered in beautiful downtown Victoria at the CCPA Performance Hall on Vancouver Island for the Performing Arts BC Provincials; a festival highlighting Dance, Music and Vocal Arts from across BC.  Of the 640, there were 156 specifically dedicated to dance.
This year, 33 Provincial festivals participated with 15 of those being multi-discipline and four strictly dance-oriented.  65 merited performers (those who participate but are not official representatives and are not judged) chose to come and take part in this extraordinary gathering of artists.  Joining the 11 dancers from the SFD 2018, were Carol Girardi (SFD Treasurer and Director) and Karen Law (SFD Ballet Section Head).
Of the 11 SFD dancers participating three won First place, Four were Runners-up and Two received Honourable Mentions.  These were outstanding results from our talented Surrey dancers.  Two merited dancers also chose to join the SFD contingent in Victoria.   Congratulations to: First Place winners Sabina Nelson (Ballet I), Kaitlin Cheung (Modern II) and Gregory Jungco (Modern III); Runner-ups Harrison Last (Stage I), Vanessa Hodges (Modern I), Caitlyn Woo (Ballet II) and Lexi Barr (Stage II); with Honourable Mentions going to Katherine Mezei (Stage I) and Erin Lum (Stage II).
The Dance finals and Highlight concert were held at the Farquhar Auditorium at UVIC.
"This was an amazing experience for our emerging and amateur dancers to participate in", states Girardi, SFD Treasurer. "The dancers had a great time, developed lasting friendships, learned skill designed to hone their talent and became a more rounded individual."  Girardi also emphasized that the SFD Society awarded the Surrey dancers with an additional $200 and a Gift Basket of local items.  "The cash amount changes yearly based on our fundraising success for our scholarship and bursary campaign", concludes Carol.
2016 Representatives and Review
This was an auspicious year as Surrey Festival of Dance celebrating its 50th anniversary and in this province wide event the dancers represented themselves and Surrey phenomenally. Competing against other festivals from BC, a total of 133 youth dancers, the 10 dancers from Surrey Festival of Dance brought home 7 awards, three 1st places and four Honourable Mentions. Dance was separated into three categories: ballet, modern, and stage, all of which Surrey Festival of Dance competed in, and seven out of our ten dancers were recognized. While winning awards in ballet, the dancers dominated the Stage category, winning both first place and honourable mentions. I am very proud of these young dancers, for performing so well and representing the city of Surrey so admirably.
Ballet 1      Giorgia Monro
Ballet 11      Brooke Thomas
Modern 11     Ashley Klockow-Rabinovitch
Modern 111      Alexandra Stuart
Stage 1         Dante Arias & Eden Wedel
Stage 11     Natalie Smith & Taylor Ginter
Stage 111      Olyvia Olson-Brooks & Spencer Taylor
First Place
Stage 1      Dante Arias
Stage 11      Natalie Smith
Stage 111      Olyvia Olson-Brooks
Honourable Mention
Ballet 1      Giorgia Monro
Ballet 11      Brooke Thomas
Stage 11      Taylor Ginter
Stage 111      Spencer Taylor
PROVINCIAL'S WINNERS: Giorgia Monro, Brooke Thomas, Ashley Klockow-Rabinovitch, Alexandra Stuart, Dante Arias, Eden Wedel,  Natalie Smith, Olyvia Olson-Brooks, Spencer Taylor, Colby MacKenzie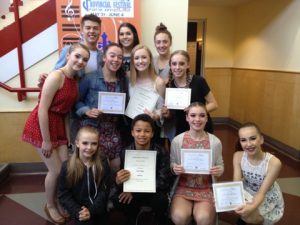 SFD WINNERS: Stage 1  Dante Arias, Natalie Smith and Olyvia Olson-Brooks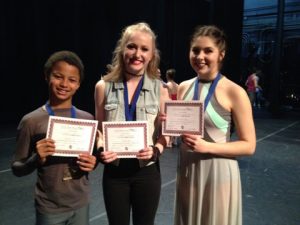 2015 Review
The event in 2015 was held in Powell River from May 27-30th.  The SFD is proud to have sent a strong contingent of dancers who represented Surrey.  Their quality, talent, and enthusiasm served the City proudly.
2014 Representatives
Senior Ballet: Sara Carver
Intermediate Ballet: Julia Ueda
Junior Ballet: Victoria Wardell
Senior Modern: Maddy Hillis
Intermediate Modern: Jennifer Chu
Senior Jazz: Brenna Forsyth
Intermediate Jazz: Rachael Withers
Junior Jazz: Brooklyn Price
Senior Stage: Emily Fox
Intermediate Stage: Natalie Smith
Junior Stage: Lily Maarhuis
Our 2014 Runner Ups:
Intermediate Ballet: Chihiro Abe
Junior Ballet: Bria Bauman
Senior Modern: Sarah Formosa
Intermediate Modern: Sydney Abram
Senior Jazz: Jewel Miller
Intermediate Jazz: Melanie Ebbett
Junior Jazz: Dante Arias
Senior Stage: Nicole Clark
Intermediate Stage: Tiana Pazdirek
Junior Stage: Colby MacKenzie
2013 Representatives
Senior Ballet: Theo Duff-Grant
Intermediate Ballet: Chihiro Abe
Junior Ballet: Cathy Chen
Senior Modern: Arielle Locke
Intermediate Modern: Yuval Jarus-Hakak
Senior Jazz: Desiree Manning
intermediate Jazz: Kyla Couper
Jr. Jazz: Brooklyn Price
Our 2013 Runner-Ups
Senior Ballet: Tyler Carver
Intermediate Ballet: Cierra Munro
Junior Ballet: Kaya Szlachetka
Senior Modern: Emily Loski
Intermediate Modern: Cierra Munro
Senior Jazz: Emma Stewart
Intermediate Jazz: Sarah Willey
Junior Jazz: Brooke Thomas
Senior Stage: Lacey Cebula
Intermediate Stage: Olyvia Olson-Brooks
Junior Stage: Katelyn Eisner